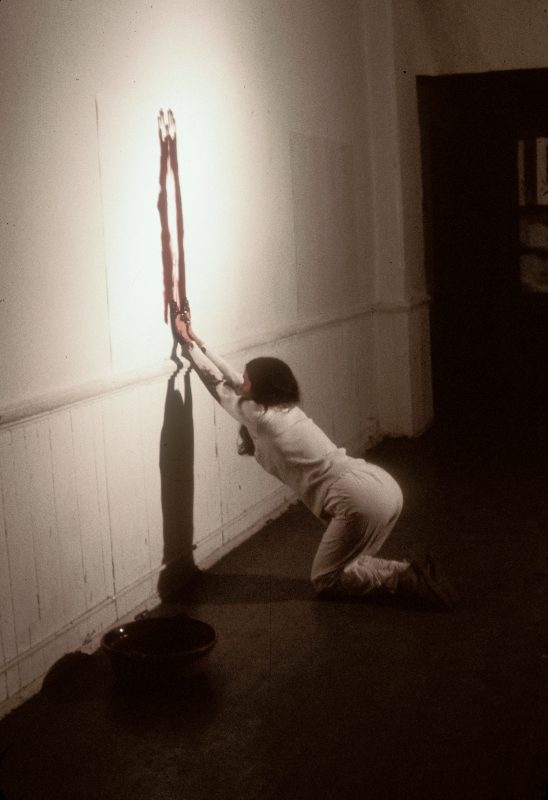 Body Tracks (1982)
Ana Mendieta explores feminist body politics in Body Tracks (1982). Drawing from the Afro-Cuban religion Santería, Mendieta uses animal blood and tempera paint to create imprints of her hands on white paper. She repeats this ritualistic gesture in silence, forming variations of her silhouette over the course of the performance. Afterwards, Mendieta exits the gallery space leaving behind her body prints for the audience to witness in her absence. Mendieta's performance symbolizes her political stance against violence inflicted upon women.
ANA MENDIETA (1948–1985) created groundbreaking work in photography, performance, film, drawing, sculpture, mixed media, and site-specific installations. Mendieta is a pioneer among artists dealing with identity politics and feminism. Her unique hybrid of form and documentation, works that Mendieta titled "siluetas," are fugitive and potent traces of her body in the landscape, transformed by fire, water, and natural materials. Mendieta's artwork has been the subject of six major museum retrospectives.
Ana Mendieta: Traces (2013) was organized by the Hayward Gallery in London, and traveled to the Museum der Moderne in Salzburg and the Galerie Rudolfinum in Prague. Ana Mendieta: Earth Body, Sculpture and Performance 1972–1985 (2005) was organized by the Hirshhorn Museum and Sculpture Garden, and traveled to the Whitney Museum of American Art, Des Moines Art Center, and Miami Art Museum. Covered in Time and History: The Films of Ana Mendieta (2015) was the largest exhibition to date in the United States of the artist's films. Presented by the Katherine E. Nash Gallery at the University of Minnesota, the exhibition traveled to the NSU Art Museum Fort Lauderdale, University of California Berkeley Art Museum, and Pacific Film Archive.
Mendieta's artworks are found in public collections worldwide, including the Guggenheim Museum, Whitney Museum of American Art, Hirshhorn Museum and Sculpture Garden, Musee d'Art Moderne et Contemporain, Museo Nacional Centro de Arte Reina Sofia, Tate Gallery, Verbund Collection, and Centre Georges Pompidou. Mendieta was born in Havana, Cuba in 1948 and died in New York City in 1985. Her artist estate is managed by Galerie Lelong, New York.