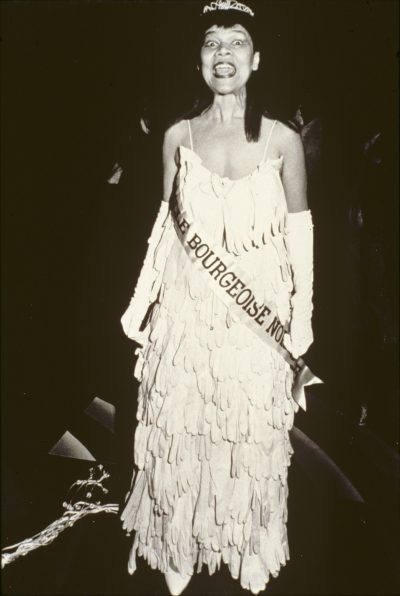 Fly By Night (1983)
"Fly By Night was a one-night-only performance I did at Franklin Furnace in early 1983 in a state of physical and psychological exhaustion. In the two-and-a-half previous years—beginning mid-1980, I'd produced three significant performances: Mlle Bourgeoise Noire, Nefertiti/Devonia Evangeline and Rivers, First Draft. But in the character of Mlle Bourgeoise Noire (MBN), I had created a stronger, more competent persona than I was. MBN would herself produce two demanding events later that year, The Black and White Show and Art Is…. She was doing swimmingly, and I? Falling in love hither and yon, relapsing into clichés of conditioning, I hadn't yet found my way to combine being artist and female, the feminine woman I still was and the new feminist I claimed to be.
I'd taken an 'MFA in performance' at Franklin Furnace, 1978–80, sitting by myself in the back row two nights a week, not knowing anyone with whom to speak. Performing there in 1983, it seemed a safe space to explore my feelings (always a risky move). Fly By Night was a chaotic pantomime performance in blackface without sound. Andrew Nahem, the Ringmaster, had shot rolls successively degrading Mlle Bourgeoise Noire. On screen, MBN faded to white. Off-screen, Lorraine wore black leotards from an eternal quest to stay fit but ended snared in three clotheslines—hung with white gloves, chrysanthemums, and stainless cutlery. Fly By Night's incoherence taught me what hard work it would be to keep making relevant art."
Lorraine O'Grady, 2017.
LORRAINE O'GRADY is an artist and a critic whose installations, performances, and texts address issues of diaspora, hybridity, and black female subjectivity. The New York Times calls O'Grady "one of the most interesting American conceptual artists around." Her landmark performance, Mlle Bourgeoise Noire (1980–1983), was installed as an entry point to WACK! Art and the Feminist Revolution (2007)—the first institutional exhibition to examine the international foundations and legacies of art influenced by feminism. O'Grady's work has been featured in significant group shows such as the Whitney Biennial (2010), Paris Triennale (2012), This Will Have Been: Art, Love & Politics in the 1980s (2012), Radical Presence: Black Performance in Contemporary Art (2012), and EN MAS': Carnival and across the world in venues such as the Yale Repertory Theatre, London Institute of Contemporary Art, Walker Art Center, Actors Theatre of Louisville, and Brooklyn Academy of Music.