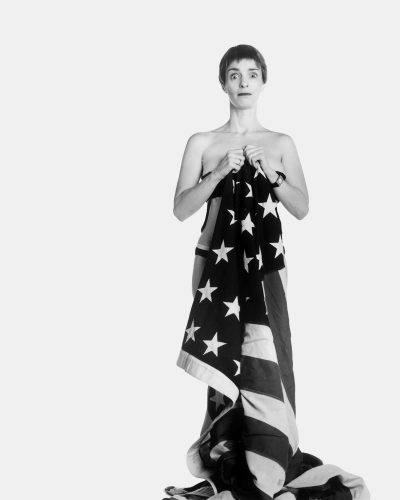 Preaching to the Perverted (1999)
Holly Hughes investigates the politics of art and democracy in Preaching to the Perverted (1999). She begins by discussing her experience as one of the artists involved in the U.S. Supreme Court Case National Endowment for the Arts v. Finley et al (1998). Hughes, Karen Finley, John Fleck, and Tim Miller had their grants revoked by the National Endowment for the Arts (NEA) on the grounds of obscenity. Later known as the "NEA Four," these artists challenged the decency provision in government grants to artists through the NEA. Throughout the performance, Hughes reenacts scenes from the Supreme Court trial that she calls "theatrical spectacles," while noting the heightened censorship of art in the United States. She decenters national debates surrounding freedom, citizenship, and democracy from a lesbian feminist point of view. In doing so, Hughes asserts her artistic freedom by creating a performance that transgresses the body politic. She concludes by explaining how the Supreme Court ruled in favor of the NEA's general standards of decency—a statute that the court determined was not unconstitutional and was not a violation of the First Amendment. Hughes's Preaching to the Perverted was intended to be part of Franklin Furnace's History of the Future (1999) netcast on Pseudo Programs, Inc.'s the Performance Channel. However, the corporation went bankrupt during the height of the culture wars, leaving the performance footage dormant until it was preserved by the Hemispheric Institute Digital Video Library.
HOLLY HUGHES is a writer and a performer who began her thespian adventures at W.O.W. Café Theatre in New York City. Her performance work explores questions of identity and sexual desire, drawing international recognition from the artist community. She is the recipient of the Obie Award and the Guggenheim Fellowship. Hughes has received funding from the National Endowment for the Arts, Creative Capital, and New York State Council for the Arts. Her books include Clit Notes: A Sapphic Sampler (1996), O Solo Homo: The New Queer Performance (1998), Animal Acts: Performing Species Today (2014), and Memories of the Revolution: Ten Years of the WOW Cafe (2015). Hughes is a professor at the University of Michigan where she founded the BFA in Interarts Performance.