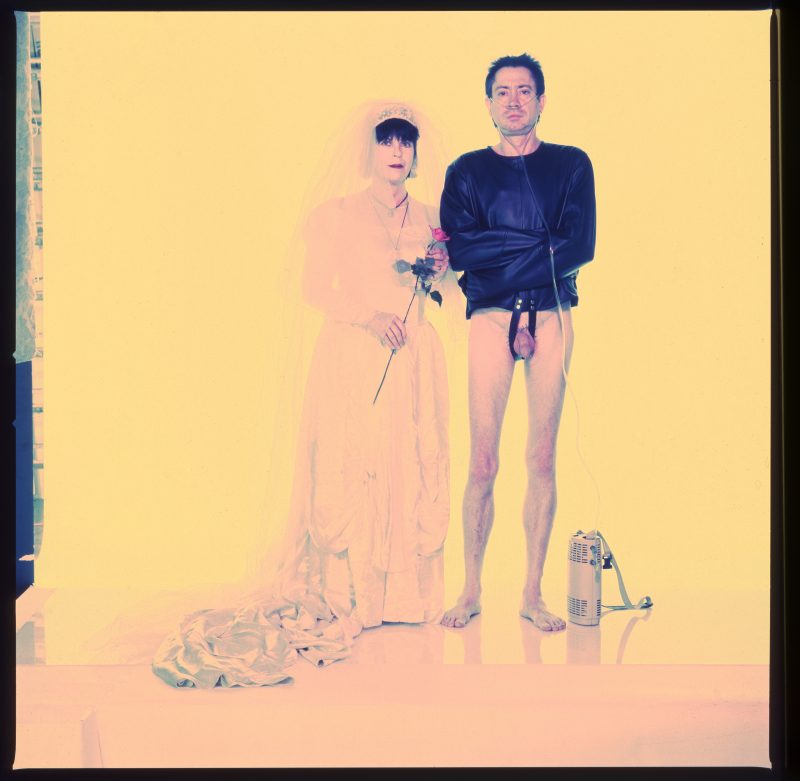 Visiting Hours Interview (1994)
Franklin Furnace Founding Director Martha Wilson and her partner Vince Bruns interview performance artists Bob Flanagan and Sheree Rose. Conducted within the exhibition Visiting Hours (1994) at the New Museum, this interview chronicles Flanagan and Rose's collaborative practice as artists and lovers. Throughout, the interviewers and interviewees talk about the following subjects: the sexual politics of art; pain as an art medium; the gaze of receiving and witnessing pain; art as an erotic gesture; and the spiritual in art. This subject matter is further elaborated upon in the broader context of art history. The interview concludes with a discussion about performance artists Ron Athey and Annie Sprinkle, who also explore sex, pain, and spirituality in their performance artworks.
BOB FLANAGAN & SHEREE ROSE began their artistic collaboration during the late 1980s in the Los Angeles club and art scenes. Their performance, photography, and video integrated elements of BDSM, which culminated in the exhibition Visiting Hours at the Santa Monica Museum of Art in 1993 and the New Museum in 1994. After Flanagan died from cystic fibrosis in 1996, Rose continued to make artwork honoring his legacy and their collaboration. Rose made contributions to the documentary Sick: The Life and Death of Bob Flanagan, Supermasochist (1997), which premiered at the 1997 Sundance Film Festival and was awarded a Special Jury Prize. She was commissioned by Japan to produce Boballoon—a 20-foot inflatable statue of Flanagan that was exhibited at Big Space in Tokyo. Rose continues to show her photography at international galleries, including the Coagula in Los Angeles, Tate in Liverpool, and Jeu de Paume in Paris. She has presented multiple performances at Highways Performance Space and Gallery in Santa Monica. Long after his demise, Flanagan's artwork with Rose continues to be a model for artists dealing with illness and death.