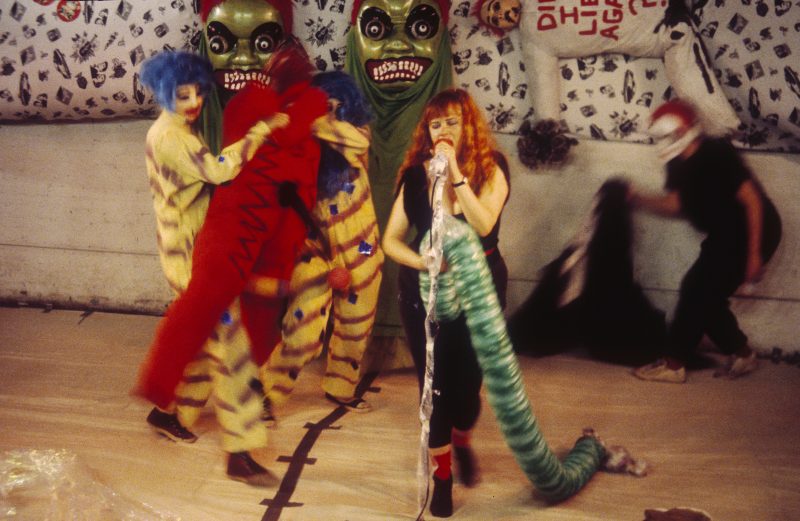 Twin, Travel, Terror (1987)
Johanna Went creates a theater of the grotesque in Twin, Travel, Terror (1987). Along with assistants Anne Iobst and Lucy Sexton of DANCENOISE, Went performs a series of actions depicting social anarchy, feminist motifs, and political upheaval. In avant-garde style, the all-female cast deconstructs, assembles, and recycles taboo subjects and found materials. Went expels unscripted grunts and phrases against a punk soundtrack composed by Mark Wheaton, while Iobst and Sexton improvise movements with homemade props and costumes. The combined elements of the performance conjure a monstrous effect resulting in a surreal theatrical experience.
JOHANNA WENT is a Los Angeles-based artist whose synthesis of avant-garde punk and performance art has made her an underground success. Known as the "Hyena of Performance Art," Went is recognized for assembling found objects and homemade props/costumes that her characters animate on stage. She is renowned for her use of improvised vocals and soundscapes that draw from punk, electronic, and industrial music. Selected works by Went include Hyena (1982), Having Fun in the Dark (1983), Knifeboxing (1984), Interview with Monkey Woman (1986), Primate Prisoners (1987), Twin, Travel, Terror (1987), and Ablutions of a Nefarious Nature (2007). Soleilmoon Recordings released Johanna Went: Club Years (2007)—a DVD/CD compilation that includes video of Went's performances in Los Angeles, live studio recordings with collaborator Mark Wheaton, and the full Hyena LP along with other musical works.