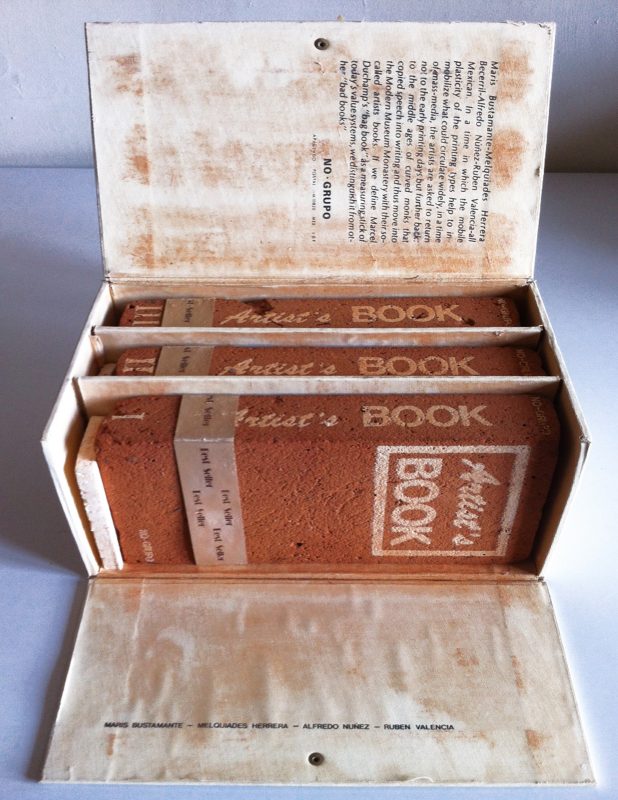 Artists' Books from Mexico (1982)
Artists' Books from Mexico (1982) showcased the diverse bookmaking practices of Mexican visual and performance artists. This exhibition was the first presentation of artists' books from Mexico that were exhibited in New York City. According to curators Martha Hellion and Carla Stellweg, such materials resulted from "the sociopolitical contexts that impacted 1970s conceptual art and visual culture worldwide." The artists' books in this exhibition challenged standard forms of publishing at the time, especially in Latin America where political subject matter is censored by the media and suppressed by the government. These experimental book works embodied visual, textual, and sculptural forms that conveyed narratives about the political climate in Mexico. Artists' Books from Mexico was co-curated by Martha Hellion and Carla Stellweg.
MARTHA HELLION is a visual artist, radical publisher, and freelance curator. With Madeleine Gallard, David Mayor, and Chris Welch, she co-founded the Beau Geste Press—a Fluxus associated enterprise that was part of the transnational avant-garde during the 1970s. The collective published eight issues of Schmuck magazine from 1972–1978. They also published artists' books by Ulises Carrión, Felipe Ehrenberg, Allen Fisher, Michael Legett, David Mayor, Michael Nyman, Carolee Schneemann, and Cecilia Vicuña. The goal of the press was to publish materials that fostered international relationships between visual artists. Hellion has also served as the editor of Ulises Carrión: Libros de artista (Universidad Nacional Autónoma de México, 2003). She is the founder of the Center of Research and Documentation on Artists' Publications—an institution that presents, distributes, and disseminates publications in Mexico City.
CARLA STELLWEG is a Latin Americanist who has worked as a museum director, writer, editor, curator, and professor. She is considered a pioneer for her efforts in introducing Latin American and Latino contemporary art to New York City. Stellweg began her career working as an assistant curator to Fernando Gamboa, the renowned museum builder who organized numerous international exhibitions on Mexican art and culture. At the Museo de Arte Moderno in Mexico City, she founded and edited Artes Visuales—the first bilingual contemporary art journal that was renowned for its reportage on Latin American, international, and conceptual art. She also served as Deputy Director of Rufino Tamayo Museum in Mexico City's Chapultepec Park. Stellweg's 40-year archive comprised of her curatorial work, writing, and professional activities is housed at Stanford University's Special Collection Library.